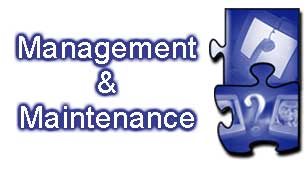 Information Management
Computers have successfully improved day-to-day business operations. Measuring that success with timely and meaningful information management is often overlooked, however. OMS consultants have applied many different technologies to fill this information gap found in today's companies.
OMS consultants know the possibilities and limitations of your information management choices. They also know that user-friendly technologies and cost effectiveness are important factors in your decision. Our consultants work with you to find the best solution for your needs. The end result will be better communication within your organization.
Many organizations find it necessary to hire or reassign staff members to handle daily information management. Our consultants can assist you during this transitional period by providing training and on-call support. You may also retain one or more OMS personnel on-site to handle management activities.
IT Maintenance
Continuing to address changing business requirements with your existing software can be a significant challenge. Programs can be difficult to understand and change. With the help of the latest tools and techniques, OMS personnel can quickly get you back on track. The improvements we make under your guidance will position you to address future business challenges.